Why California Politics Have Changed
by Peter Coe Verbica, President
California Congress of Republicans
California politics have changed, but not for reasons that you might think.  If boxing is a tough sport, welcome to the MMA cage match known as California politics.  If you don't have time to finish this article, I'll cut to the punch line: Higher housing prices and higher rent equals less Republicans. The number of Republicans in California is inversely correlative to the price of housing.  As more and more Californians become oppressed renters, due to a lack of housing supply, they're more prone to vote for policies which penalize owners.  Interested in more Republicans in California?  Reform land use!  The rest is hogwash.  Today's problem has only been 80 years in the making.
For years, boxing was bound by the bare-knuckled "London Prize Ring Rules."  These were subsequently replaced by the "Marquess of Queensberry Rules," first written by John Graham Chambers in 1865, and endorsed by boxing patron and sportsman John Douglas, the Ninth Marquess of Queensberry.  Thanks to California's governor, raised by the silver-back political wolves by the names of Pelosi, Brown and Feinstein and an unbridled Democrat-run legislation, the gloves are off.  It's pure blood sport and not for faint of heart.  Who would have thought that so many aging hippies who hated "the man" would be such rabid advocates for the degradation of basic liberties?
While the rules of boxing have evolved, the rules of California politics have devolved.  If the stakes of boxing matches are high, the stakes in politics are higher.  A single fighter may fall to the canvas, but in politics, generations are either damned or liberated by who wins or loses.  The California Republican Party is in a death-match.  The old rules have been scuttled.  The greatest irony: California Republicans wear the white hat and sit high in the saddle.  California Republicans, male or female, gay or straight, old or young, of color or white as a lily, are the "good guys." Why?  These brave souls stand for principles such as lower taxes, cheaper housing, quality jobs, better education and, the strangest concept of all — reason.  Californian Republicans demand their tax money is spent on outlandish projects normally under the purview of government: roads, water, fire protection.  Not slow trains to nowhere.  Welcome to the Alice in Wonderland looking glass world where up is down and down is up.
As Reagan reminds us, "Government's view of the economy could be summed up in a few short phrases: If it moves, tax it. If it keeps moving, regulate it. And if it stops moving, subsidize it."  Great wisdom and yet, it's a fact that Republicans don't get a fair shake in the press; even back in 2014, the Washington Post announced, "Just 7 percent of journalists are Republicans. That's far fewer than even a decade ago."[i]
So, as the California Democrat Party refuses to build any new reservoirs, despite its population boom, and builds boondoggle trains to nowhere, and chokes housing supply despite demand, we could compile a quick list of some of their dirty tricks; lately, that's an easy thing to do.  Here are just a few examples:
California Attorney General Xavier Becerra's nefarious mislabeling of Proposition 6's repeal of the gas tax initiative.[ii]
Sacramento's change of law allowing for ballot harvesting, which greatly favors Democrats.[iii]
Widespread voter fraud in California and lax enforcement of the rule of law ("LA County Admits Number of Registered Voters At 144% Of Resident Citizens Of Voting Age").[iv]
The California Teachers Union's outsized spending on Democrat campaigns and liberal initiatives which in five and a half election cycles spent ~$118 million as reported back in 2012.[v]  According to the The Atlantic, "The Supreme Court Wednesday dealt a huge blow to public-sector unions and the labor movement in general, ruling in Janus v. AFSCME that public employees do not have to pay fees to unions to cover the costs of collective bargaining."[vi]  It's a sad day when teachers have to go all the way to the US Supreme Court to secure their First Amendment rights.
Democrat campaign workers stealing Republican political flyers in Riverside County.[vii]
The so-called fair redistricting measure which uses diabolically subjective tests which can be easily abused. As a friend eloquently states: "And let's not fool ourselves with this redistricting commission —  we cannot win because the criteria was skewed to put "Communities of Interest" as top criteria – that means lines  can be gerrymandered and still be legitimate because the definition of communities of interest includes sharing the same transportation systems, same media outlets – etc. —  basically the court  can't rule on a gerrymander because there's no way to prove the lines violate the rules."
SB27 which, if unchecked, disallows California voters the right to vote for a Presidential or gubernatorial candidate who doesn't submit her taxes.[viii]
Dastardly examples to be sure, but I will argue to you that none of these is the main impetus.  Termites have been working on the wood of the structure of the California Republican Party for years.  Let me explain.  The answer is shockingly simple, but the solution will be anything but easy.
Re-Branding is a Fool's Errand
Before we dig into the problem, let me assure you that re-branding the California Republican Party is a fool's errand.  Time and time again, one hears about it; pollsters are engaged; consultants do focus groups.  The CAGOP isn't green enough.  It lets down soccer moms because it's tone-deaf.  It doesn't care about diversity or inclusion.  It doesn't care about seniors.  This is pure, unmitigated hooey.  Don't fall for any of these.  The overwhelming majority of California Republicans are generous, broad-minded, reasonable, neighborly and want to preserve our great outdoors.  So, while one hears arguments that the California Republican Party needs to be re-branded, don't be fooled.  Unfortunately, the real issue is more complicated than replacing the shape of CAGOP bottles and spiffing its package design.  This isn't a Coca-Cola® versus Pepsi® issue.  If only life were that easy.
Middle Class Californians are Leaving in Droves
We hear of middle-class Californians leaving in droves; without a doubt, many of them are Republicans; Len Ramirez reported this trend in his report, "San Francisco Bay Area Experiences Mass Exodus of Residents" on KPIX, a CBS affiliate.  U-Haul franchises are having trouble getting their trucks back because most of the traffic seems to be one-way; cities of choice are reportedly Las Vegas, Phoenix, Atlanta and Nashville.  Those leaving cite crowding, the cost of housing and increased crime.[ix]
Density as a Predictor
Back to the people voting Republican or Democrat.  Let's step back for a moment and look at one of the major predictors of how someone is going to vote: density.  A rural voter will typically vote Republican and an urban voter will typically vote Democrat.  It's a high correlation, as explained by Justin Davidson in his article, "Cities Vs. Trump, Red state, blue state? The urban-rural divide is more significant."[x]
Epiphany!  The High Cost of Housing and the Subsequent Decline of Ownership
Why is density such a great predictor of how someone is going to vote?  Is it race or education?  Those red neck "deplorables" referred by the urbane and gentile Obama?  The real reason for the decline of the Republican Party struck me with unnerving clarity this past year, like a sledgehammer to a bronze church bell.  The reverberations of the revelation animated my being.  It was extraordinarily obvious, but like most California Republicans, I've been a lobster in a pot.  The heat of the water had gradually increased to a boil, but I was too busy swimming to notice.  Take a look at the chart at the beginning of this article on California housing affordability: it's only been 80 years in the making!  Behold the obvious: those who live in rural areas are more apt to own their residence.  Entitlement subsidies and regulation compliance are more likely to fall upon an owner's back.  The issue is compounded in California.  Ironic that a state which seeks to lowers barriers to immigration also makes little effort to address the supply side imbalance, isn't it?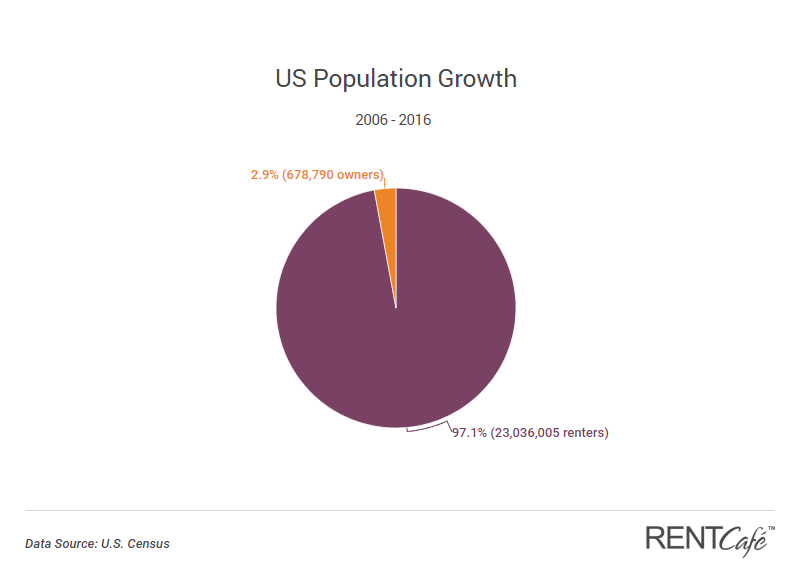 As the number of Republicans have declined in Californian, so too have the number of homeowners.  The trend is well-documented in a ftJournal article entitled, "California's low homeownership rate to continue," which came out on March 28, 2019.  The article notes that "California's homeownership rate typically falls around 10 percentage points below the national average…"[xi]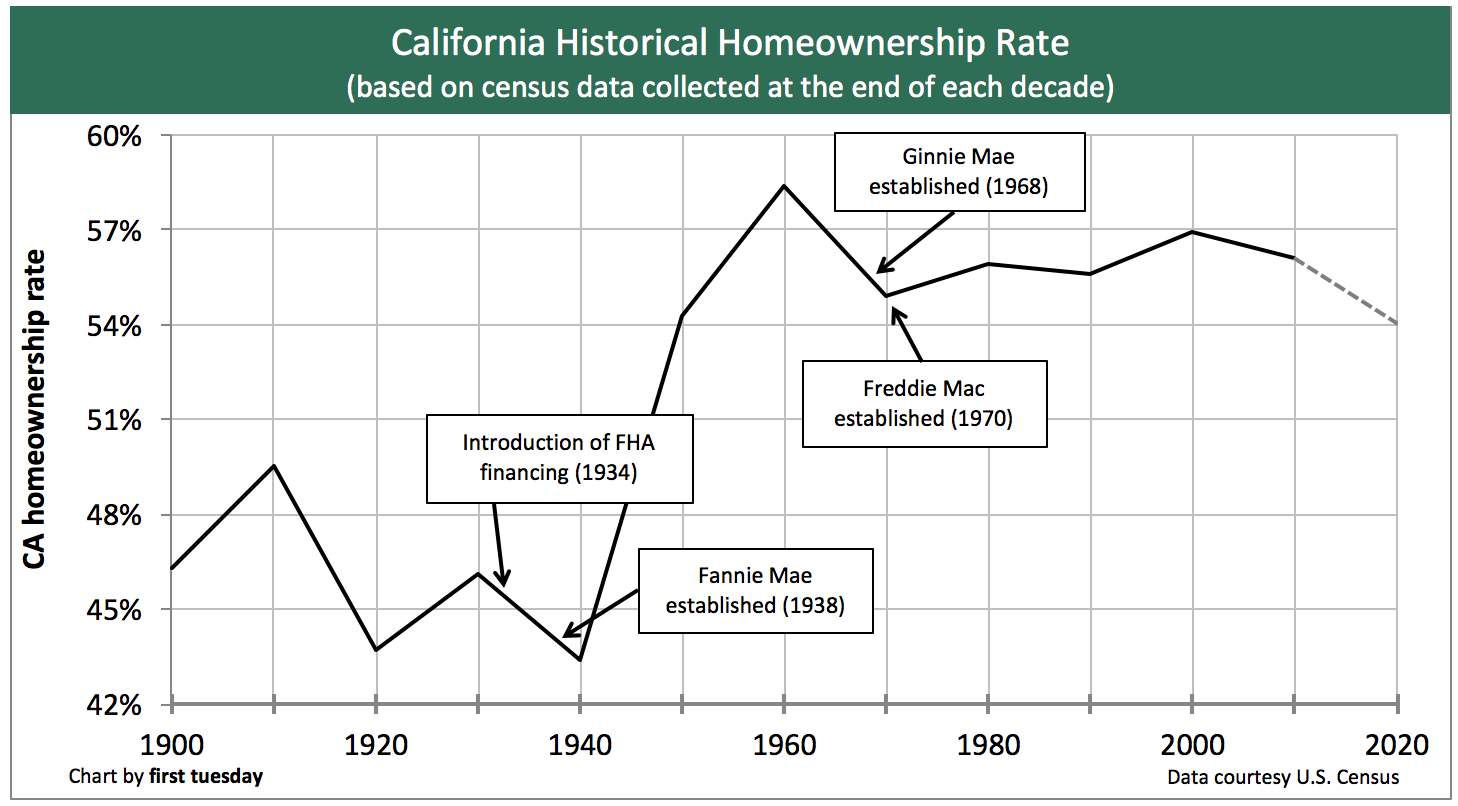 The article continues to explain how in major metropolitan areas, the percentage of homeowners can be dramatically less.
And, the trend is nationwide for large urban areas.  According to an article in RentCafe, "The population of almost a quarter of the 100 largest US cities has changed from homeowner- to renter-majority between 2006 and 2016."[xii]  Articles in the US, Canada and Australia are sounding alarm bells that these nations are transitioning from a nation of owners to a nation of serfs.
To reiterate, the epiphany is this: as the number of homeowners in California has dropped, so too have the percentage of Republicans; the low number of Republicans is, therefore, inversely correlative to the high cost of housing in the State.  While politicians virtue-signal with "living wage" regulations, what isn't addressed is the biggest drain on the majority of Californians' budgets: the cost of housing.  According to the California Budget and Policy Center, "Californians in All Parts of the State Pay More Than They Can Afford for Housing;" a huge percentage of these households have housing expenses in excess of 30% of their budget (also known as "cost burdened").[xiii]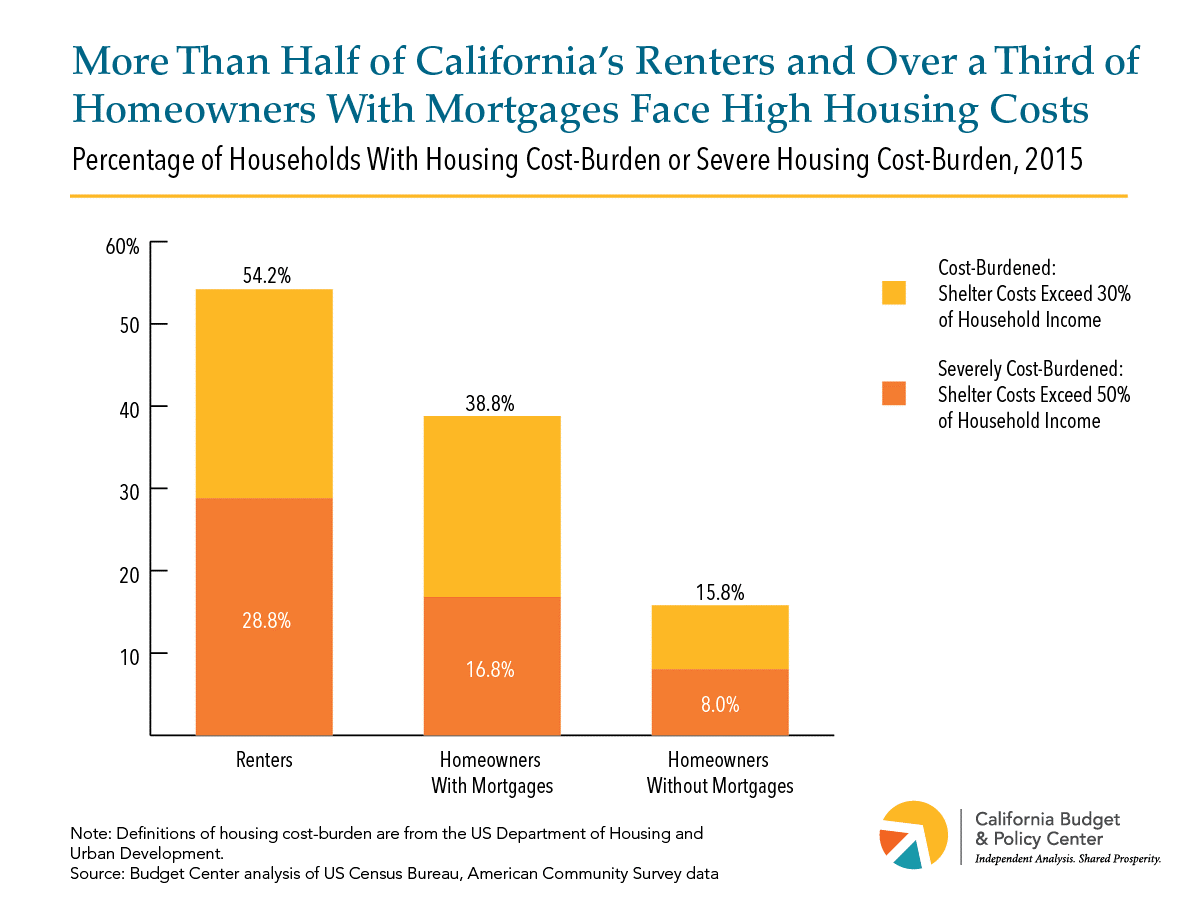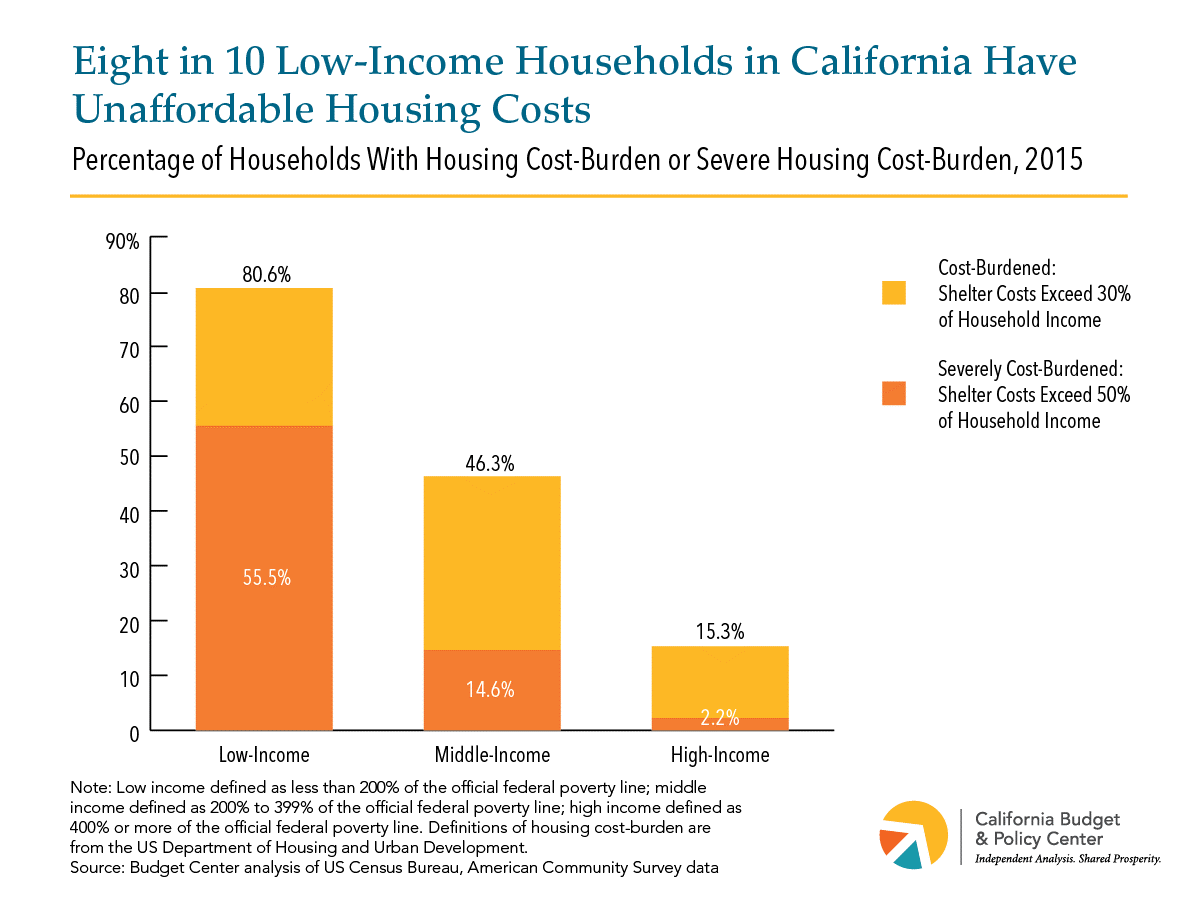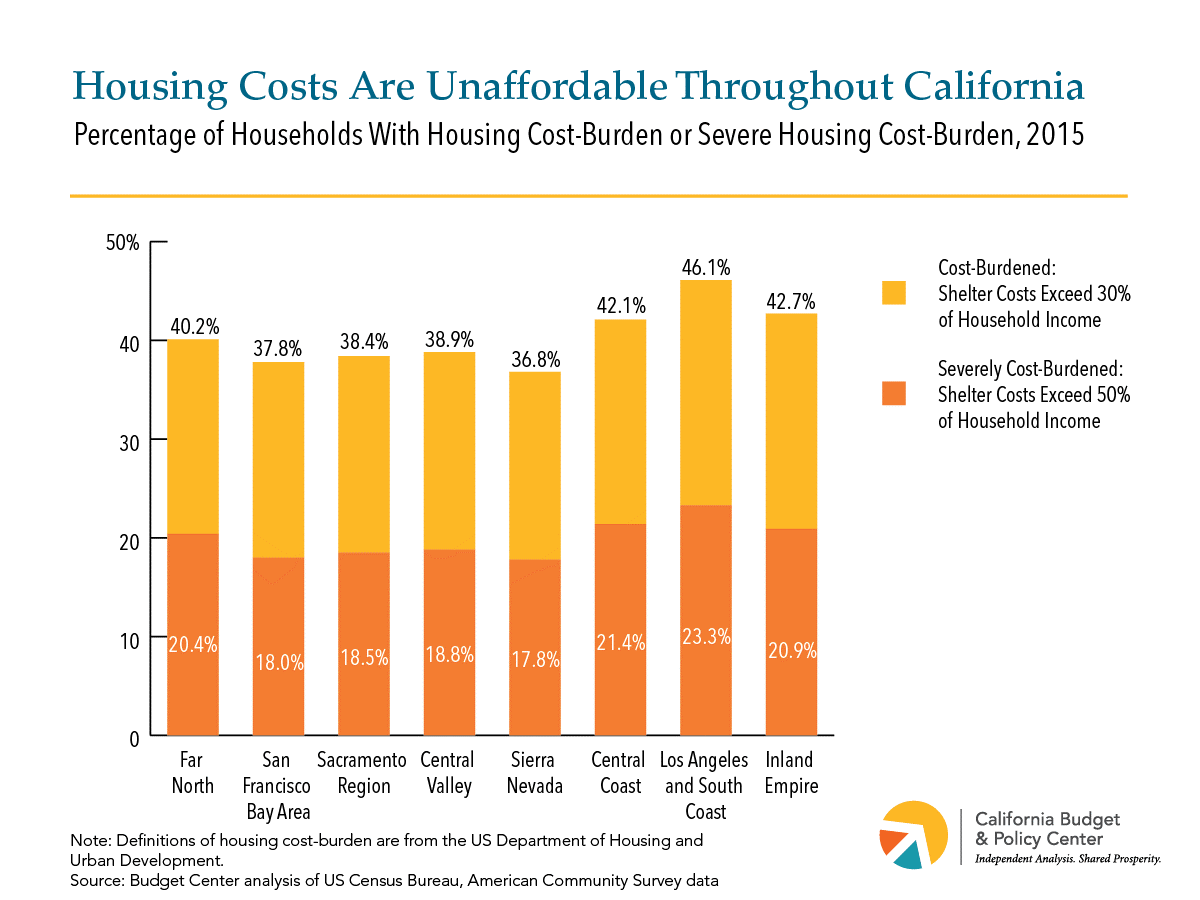 Wonder why other urban areas vote Democrat across the country?  Here's why: they've flipped from a majority owning their homes, to a majority renting their homes!
Let Us Take Off our Gloves and Pick Up a Lance
In California, the supply problem is exacerbated by two main factors: the California Environmental Quality Act ("CEQA") and onerous zoning regulations.  It's time to face these demons head on, the way St. George might seek to slay a dragon.  Unless we do, the number of Republicans will continue to dwindle in California as the opportunity for ownership wanes.  Re-branding the CAGOP won't help.
CEQA and Abuse of Process
Jennifer Hernandez, Esq. is an attorney who specializes in CEQA litigation and has done extensive review of cases which have obstructed new construction projects; she explains that even avowed liberals recognize the harm CEQA has done to the State of California:
"As CEQA critic Governor Brown has explained, over the past four decades the courts have issued hundreds of judicial interpretations of CEQA that have morphed this great environmental law into a "blob" of contradictions and uncertainty—often misshapen, misused, mismanaged and, as shown by this study, used to thwart important environmental policies like climate change."[xiv]
The impact of the problem was documented in "California's High Housing Costs: Causes and Consequences" by legislative analyst, Mac Taylor:
"We also find that building activity in California's coastal metros has been significantly lower than in metros outside of California that have similar desirable characteristics—such as temperate weather, coastal proximity, and economic growth—and, therefore, likely have similar demand for housing."[xv]
In the report, he observes that among the hardest hit are lower income families who are burdened with exorbitant rents; these individuals are those who the Democratic party successfully panders too, despite tax and regulatory policies which oppress these constituents.  A cruel irony indeed.
Zoning Laws and NIMBYs
The New York Times' opinion columnist, Farhad Manjoo, in his article, "America's Cities Are Unlivable. Blame Wealthy Liberals." states that restrictive zoning laws and NIMBY-ism is a "sort of nakedly exclusionary urban restrictionism is a particular shame of the left."  He chronicles "increasingly unlivable cities" and castigates liberal Democrat State Senator Anthony Portantino for shelving SB 50, which would reportedly create more housing by loosening zoning restrictions.[xvi]
Municipalities have used zoning restrictions to keep down new housing inventory which would drive down housing prices and rents; these bureaucracies have also perfected a rarely checked practice of extorting developers out of high fees, rather than seek to balance their own city, county and school budgets, and migrate away from high cost defined benefit retirement plans to defined compensation plans which are utilized now by a majority of private and public companies.  Of course, higher fees are always passed down to the consumers – the buyers and renters of the housing inventory.
One of the few exceptions to this unchecked and unbridled ad hoc administrative usury was Chop Keenan's win against the town of Half Moon Bay which was hit with a $36.8 million dollar judgement for its unsavory practices.
For the California Republican Party to succeed, it needs to be part of the solution which cracks open the ownership opportunity for more Californians.  Examples of white knights which come to mind are the Pacific Legal Foundation, the Howard Jarvis Taxpayers Association and Fair Education Santa Barbara Inc.
The California Republicans need to take on the forces which are choking housing supply and demand the reformation of CEQA and zoning laws in the state.  The State of California's government should focus on improving its infrastructure, including reservoirs, bridges, aqueducts and roads, as well as reforming its strategies of fire prevention (controlled burns, grazing, intelligent timber harvesting).   As Reagan eloquently states, "Government's first duty is to protect the people, not run their lives."
Republicans!  The gloves are off.  What are you doing about land use?  How are you helping more Californians have access to affordable home ownership?  What are you doing to increase supply?
---
[i] "Just 7 percent of journalists are Republicans. That's far fewer than even a decade ago" by Chris Cillizza (Washington Post, May 6, 2014).
[ii] "Gas Tax Opponents Target California's Anti-Trump AG Over Ballot Manipulation" by Chris White (Daily Caller, October 29, 2018).
[iii] "Exclusive–Election Fraud Expert: California's Ballot Harvesting Favored Democrats" by John Binder (Breitbart, November 30, 2018).
[iv] "LA County Admits Number Of Registered Voters At 144% Of Resident Citizens Of Voting Age" by Tyler Durden (ZeroHedge, August 6, 2017).
[v] "Top 100 donors influence California campaigns most" by Coulter Jones and Elizabeth Titus (SFGate, June 4, 2012).
[vi] "Is This the End of Public-Sector Unions in America?" by Alana Semuels (The Atlantic, June 27, 2018).
[vii] "Assembly Member Sabrina Cervantes Campaign Worker Caught on Video" (Republican Club of Riverside County, June 3, 2018).
[viii] "California to Trump: Release your taxes or you're barred from the primary ballot," by Alexei Koseff (San Francisco Chronicle, July 30, 2019)
[ix] "San Francisco Bay Area Experiences Mass Exodus Of Residents" by Len Ramirez (KPIX, CBS affiliate, February 8, 2018).
[x] "Cities Vs. Trump, Red state, blue state? The urban-rural divide is more significant" by Justin Davidson (NY Magazine, April 17, 2017).
[xi] "California's low homeownership rate to continue" by ftJournal editorial staff (ftJournal, March 28, 2019).
[xii] "Renters Became the Majority Population in 22 Big US Cities" (RentCafe, January 25, 2018).
[xiii] California Budget and Policy Center, Fact Sheet, September 2017.
[xiv] "New CEQA Study Reveals Widespread Abuse of Legal Process by 'Non-Environmentalists'" by Jennifer Hernandez, Esq., December 21, 2015.
[xv] "California High Housing Costs: Causes and Consequences" by Mac Taylor, March 17, 2015.
[xvi] "America's Cities Are Unlivable. Blame Wealthy Liberals." by Farhad Manjoo (New York Times, May 22, 2019).