by Peter Verbica,
CCR President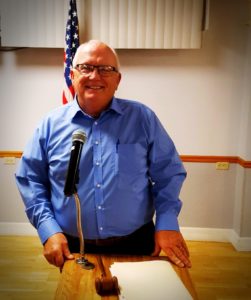 Anyone who grew up on a farm or ranch gets instant credibility in my book — especially since I wrote Hard-Won Cowboy Wisdom (Not Necessarily in Order of Importance).  So, when interviewing Tom Wilson, the President of Hemet-San Jacinto Congress of Republicans, I was ecstatic to learn that Tom grew up on Rancho Pavoreal, located in a rural part of Hemet known as "Sage."  There's nothing like loading hay, cleaning stalls and tractor work to teach life-long lessons.  Tom is a living testament to this principle.  He shoots straight.
Rancho Pavoreal was part of a suite of holdings which made up the empire of Pennsylvania billionaire, Benjamin Coates.  The sister ranch, Rancho Guejito, in San Diego County is reported to be one of the few remaining intact Spanish land grants.  While the ranch that Tom grew up on may not have been as famous, it does have a more entertaining name.  Those who speak Spanish will know that "pavoreal" translates to "peacock."  Visitors of the Wilson family would be greeted by 30 peacocks and guests always loved collecting the beautiful feathers.  More traditional activities such as farming alfalfa and raising Herefords and hogs helped pay the ranch's bills.
Tom met his wife, Louise, when they attended San Jacinto High School, home to the Tigers.  He played football as a lineman and a defense end.  Tom jokes that his wife must have been near-sighted, but it is obvious that they make a great team.  This year, they celebrate 47 years of marriage.  Their children, Matt and twins Laurie and Kristy attended Hemet H.S. and then all bounded off to college.  Matt studied biology at UC San Diego and his sisters went off to "The Farm," also known as Stanford.  Both ladies went on to get law degrees and now they have successful careers in the credit counseling business.  The Wilson tribe continues to grow with their seven grandchildren.  And, while Tom describes himself as "car nut" (Jeeps and Corvettes), Louise makes sure he expands his horizons with trips to Europe and an upcoming trip to Israel with a church group.
The Hemet-San Jacinto Congress of Republicans has had a long line of terrific presidents, including current CCR Board Member, Sharon Durbin, and former CCR President Robin Lowe.  Tom maintains this tradition and brings a wealth of experience; he served for eleven years as a California State Legislature Field Representative for Congressman Paul Cook, Senator Bill Emmerson, Senator Mike Morrell, and Assemblyman Chad Mayes.  He has also served as a Riverside County Republican Party Delegate.  His civic involvement is extensive as well, including Kiwanis, CASA, Valley Health System Board, San Jacinto Education Foundation, San Jacinto Valley Action Group and more.  His professional life is just as impressive.  He's been a successful small business owner for seventeen years, helped by his previous experience as store manager of several different Safeway and Liquor Barn stores.
The long and short of all this?  Under Tom Wilson's leadership, Hemet San Jacinto Congress of Republicans will continue to be a Republican rock in the river.  CCR tips its hat to Tom!