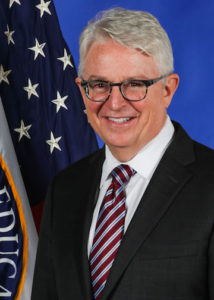 California Congress of Republicans (CCR)
(in conjunction with CCR Chapters throughout the State)
Topic: Why California Education Leaders Get a Failing Grade from Parents and Students
JUN 16, 2021 at 6:00pm Pacific Time (US and Canada)

via Zoom
with Jim Blew
Former Assistant Secretary of Education and Chief Policy Advisor to Betsy Devos
Jim Blew serves as the assistant secretary for planning, evaluation and policy development at the U.S. Department of Education. He was confirmed by the U.S. Senate on July 17, 2018, after being nominated by President Donald J. Trump on Sept. 28, 2017.
Prior to joining the Department, Blew advocated for education reform across the country. His roles included serving as director of the 50CAN affiliate Student Success California, national president of StudentsFirst, and national director of the Alliance for School Choice and its predecessor, the American Education Reform Council.
Blew also helped guide the Walton Family Foundation's K-12 reform investments for nearly a decade.
Before committing himself full-time to education reform, Blew worked at political and communications firms in New York and California. He holds a bachelor's degree from Occidental College and a master's in business administration from the Yale School of Management.